Today I tested with both different MIDI equipment and a different laptop.
Different MIDI equipment
: I tried a MIDI keyboard, but it behaved in the same way as the AKAI device.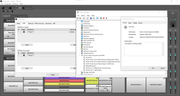 Seems like that my OS does see the keyboard (as well as the AKAI) as audio devices but doesn't recognize them for MIDI purposes.
Different laptop
: installed SweetLight on a 3 years-old customized laptop running x64 Windows 10 (not sure which version). Plugged the AKAI in and it worked fine on a fresh test lightshow.
I've investigated a little via the "Printer and Devices" page and found out that the AKAI had two additional software devices (that I believe are the MIDI ports) on my friend's laptop (see attached screenshot)
My friend's laptop (working):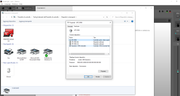 My laptop (not working):