Details of interface Box
Posted:
28 December 2009, 15:11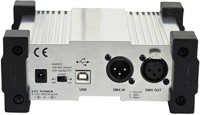 . Aluminium casing with plastic feet to protect against hits
. LEDs in front panel for power, DMX input and stand alone mode (without computer) control
. USB type B socket for computer linking
. XLR 3 points female socket for DMX lighting equipment driving
. XLR 3 points male socket for external DMX lighting desk receiving (24 channels)
. 2.5 jack socket for external power unit
. Switch allows user to select external or internal power
One scene for 100 dmx channels can be uploaded in this interface. It will be automatically started when the computer is not connected.
This interface works exclusively under Windows operating system.